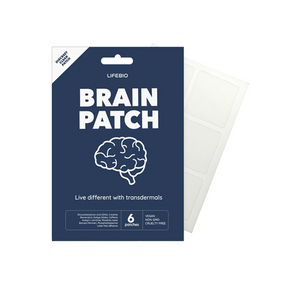 Lifebio Brain Patch - 6 Patches
£999

£9.99
Tax included.
Shipping
calculated at checkout.
---
---
With Lifebio Brain Patches, you'll discover the power of a revolutionary product designed to support cognitive function and enhance mental performance. Crafted with a synergistic blend of carefully selected key ingredients including docosahexaenoic acid (DHA), creatine, resveratrol, bacopa monnieri and phosphatidylserine, each Brain Patch offers a natural boost for your brain.

With Brain Patch, you can enjoy the benefits of these carefully chosen ingredients conveniently delivered in an easy-to-use patch. Each patch is formulated to provide a gradual and sustained release, optimizing ingredient absorption and promoting long-lasting mental clarity. Lifebio are committed to your well-being. Brain Patch is made with the highest quality ingredients and adheres to strict manufacturing standards, ensuring a safe and effective product.

Unlock your cognitive potential and enhance your mental performance with Brain Patch. Order yours today and embark on a journey towards a sharper, more focused mind. Please note that Lifebio does not make any specific claims. The information provided is not intended to diagnose, treat, or cure any medical condition. Consult with a healthcare professional before using any dietary supplement.
Made In The UK
6 Patches Per Pack
Docosahexaenoic Acid (DHA)
Creatine
Resveratrol
Ginkgo Biloba
Caffeine
Acetyl-L-Carnitine
Rhodiola Rosea
Bacopa Monnieri
Phosphatidylserine
Latex-Free Adhesive
Vegan
Non GMO
Cruelty Free
Directions:
 Apply one patch to a clean, dry and hair free area of skin. Leave for up to 10 hours.
Warnings:
Keep out of reach of children.
 For external use only, do not wear longer than 10 hours. Discontinue use if skin irritation occurs. If you are taking any medications, or any type of medical issue, consult with a doctor before using this product. Do not use on wounds or damaged skin. Do not apply more than one patch at a time. Do not use if you have an allergy or hypersensitivity to the compounds of this formula. Not suitable for individuals under 18. Consult a doctor before use if you are pregnant or breastfeeding. 
Store in a cool, dry place.
 Avoid using a lotion or cream in the same area prior to application, as this may affect adhesion. The patch is not waterproof. Wash hands before use.
Keep container closed. This product is not intended to diagnose, treat, cure or prevent any disease. Use in conjunction with regular exercise and a healthy diet.Ingredients:
 Docosahexaenoic Acid (DHA), Creatine, Resveratrol, Ginkgo Biloba, Caffeine, Acetyl-L-Carnitine, Rhodiola Rosea, Bacopa Monnieri, Phosphatidylserine, Latex Free Adhesive
THC content<0.2%
---
We Also Recommend