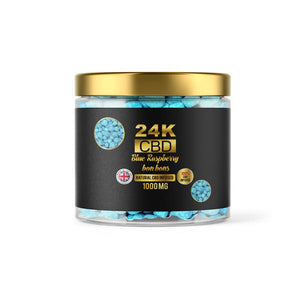 24K 750mg CBD Premium Gummies
£2899

£28.99
Tax included.
Shipping
calculated at checkout.
---
---
These 24K CBD Sweet Jars are packed full with retro style sweets, perfect for a present. A great gift idea that will be sure to create a smile. These classically styled jars are resealable, with a screw top, and labelled with '24K CBD', making these jars perfect for a present or as a treat for guests at a party. 
24K CBD gummies are Non-GMO, gluten-free, vegan-friendly, rich in Omega 3 and 6 fatty acids, zero THC using only the finest ingredients.
Flavours:Blue Raspberry Bonbons
Sugar dusted, raspberry flavoured chewy sweets that everyone will love. 
Fizzy Sour Dracula Teeth
These particular fruity fangs are Fizzy Sour Dracula Teeth infused with CBD . They're just the thing to sink your gnashers into when you're feeling like a little midnight snack! - but be careful, you may get the taste for them and Fangs will never be the same again!
Sour Jelly Dummies
Retro sour jelly dummies are back! Infused with the finest CBD These tangtastic, fizzy sour dummies are an old school favourite and loved by all! These leave the perfect sour aftertaste with that sweet fizzy and fruity flavour that will have you hankering for more.
Fruit Slices
Fruit flavoured gummy sweets, coated in sugar and infused with the finest CBD! This jar is filled with a timeless classic sweet with a modern twist, Enjoy anywhere in the house, at work or on the go.
Rainbow Bites
You cannot miss these colourful Rainbow Bites when they're on the shelf! Flat pieces of fizzy, fruit flavour candy, the bitesize sweets are multi-coloured and boldly striped with colours including red, orange, yellow, green and blue. The sugar, fizzy coating completes the fun with a tingle in the mouth when eaten. Altogether an excellent choice and one that you will soon want more of.
Fizzy Cherries
A sweet jar full of fizzy CBD Infused twin cherries, a cherry shaped and flavoured jelly with a fizzy slightly sour outer coating. Presented in a sweet tub with a tamper proof lid to ensure freshness.
Fizzy Strawberry Pencils
Fizzy Strawberry Pencils - delicious long red chewy pencil shapes with a white fondant centre and the all important fizzy coating. Strawberry flavour and very fizzy.
Cola Cubes
Original chewy centre cola cubes are back, But with a Twist! These CBD Infused Cola Cubes have a sugary coating on the outside and a soft chewy cola centre, just like they used too! We have made sure our cola cubes have a full on flavour that lasts all the way through to the chewy bit in the middle. The good news is they still taste just as good as they always did as we have hunted high and low to bring you the best ever tasting cola cubes, and we are very fussy when it comes to sweets!
Cola Bottles
A sweet that everyone love's! A cola flavoured CBD infused sweet which is sugar coated. Is shaped as a ...wait for it ...cola bottle!
Watermelon Slices
Enjoy a slice of summer all year round with these juicy CBD Infused watermelon gummies. Moorish cuties made using natural colours and flavours, just try not to eat them all in one sitting.
Ingredients:
Broad Spectrum CBD, Sugar, Glucose Syrup, Wheat Starch, Water, Modified Maize Starch, Acids: Lactic Acid, Citric Acid, Malic Acid, Sodium Malate, Modified Potato Starch, Flavourings, Fruit & Vegetable Concentrates: Spirulina Saflower Black Carrot & Grape, Colours: Curcumine Paprika Extract
---
We Also Recommend