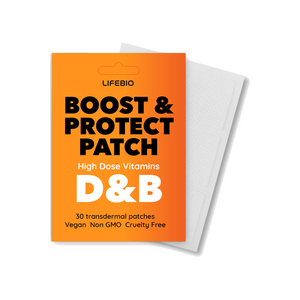 Lifebio Boost & Protect Patches - 30 Patches
£999

£9.99
Tax included.
Shipping
calculated at checkout.
---
---
For when your energy levels are low, and it seems like everyone around you is getting sick, these Lifebio Boost & Protect Transdermal patches will boost your energy level and immune system. These are great for anyone but especially good for those of us that don't get to see a lot of sunshine everyday and also a must for those with darker skin. Because transdermal patches are more efficient at delivering the active ingredients than any pill, they avoid your digestive system called first pass. This happens when you absorb vitamins via digestive system, a very ineffective method that by-passes most of the vitamins & minerals intake. Refreshingly simple to use, Boost & Protect are a hassle free alternative to keeping yourself healthy and fit. They are the perfect transdermal patches to get those immune defences.

These patches deliver vitamins D3 & B12 directly into your bloodstream. Lifebio's vitamin D patch contains 4000IU of D3 which is proven to help protect your immunity from seasonal colds flu and 3mg vitamin B12 to boost energy levels. Boost & Protect is both safe and effective easy to use transdermal patches with a soft texture that go on easily. Just apply every day to clean, dry skin and feel the difference.

Vitamin D is a supplement that promotes bone health, helps control blood pressure and cholesterol, enhances neuromuscular function, and boosts your overall health. But not everyone gets enough vitamin D because of lack of sunlight, the sunshine vitamin that our bodies crave. Vitamin D has been shown to have many potential benefits such as reducing chronic pain in fibromyalgia patients and improving cardiopulmonary functioning in patients with low levels of this important vitamin.

Made In The UK
30

Transdermal 

Patches Per Pack
4000IU of Vitamin D3 Per Patch
3mg of Vitamin B12 Per Patch
GMP Certified
Vegan
Non GMO
Cruelty Free
Directions: Apply one patch to a clean, dry and hair free area of skin. Leave for up to 10 hours.

Warnings: Keep out of reach of children. For external use only, do not wear longer than 10 hours. Discontinue use if skin irritation occurs. If you are taking any medications, or any type of medical issue, consult with a doctor before using this product. Do not use on wounds or damaged skin. Do not apply more than one patch at a time. Do not use if you have an allergy or hypersensitivity to the compounds of this formula. Not suitable for individuals under 18. Consult a doctor before us eif you are pregnant or breastfeeding. Store in a cool, dry place. Avoid using a lotion or cream in the same area prior to application, as this may affect adhesion. The patch is not waterproof. Wash hands before use.

Keep container closed. This product is not intended to diagnose, treat, cure or prevent any disease. Use in conjunction with regular exercise and a healthy diet.
Ingredients: Cyanocobalamin 3mg, Provitamin D3 (7-dehydrocholesterol) 4000 IU, Latex-Free Vinyl Acetate, Non-Woven Fabric Material (Recyclable)

THC Content<0.2%
---
We Also Recommend